Roulement de tambour... Pour la grande, la magnifique "
Audi R8
" :)
Présente dans les concessions Audi depuis avril 2007, l'Audi R8 est (pour moi) le plus beau coupé GT2 ! Rien que ça ;)
Enfin un modéle qui peut rivaliser avec les Porsche, Ferrari et Autre Aston Martin.
Elle est produite en Allemagne et sa construction est organisée comme dans une manufacture où des spécialistes vérifient la qualité de chaque pièce .
Avec son moteur essence V8 à injection directe de 4,2L emprunté à la RS4, l'Audi R8 passe de 0 à 100 km/h en moins de 5 secondes et de 0 à 200 km/h en 16,5s, pour une vitesse de pointe de plus de 300 Km/h !
Son design est époustouflant, et ces feux avants à LED en forme d'yeux de Faucon lui donne un look animal, Rrrrrr...
Avec tout ça, on comprend facilement qu'elle plaise autant et il était donc logique de la voir se glisser sur les routes de GTA San Andreas ;)
Et là, en l'occurence, je trouve que
XSB
à fait un boulo formidable, elle est splendide ! Même si je trouve que l'intérieur manque de détail...mais bon, c'est une convertion . De Prostreet pour être précis .
Tout y passe, la calandre avant, les feux avant et arrière, la prise d'air latérale en carbon, l'échapement, les jantes, le moteur...c'est une pièce d'orfévrerie !
Si vous regardez bien, le travail réalisé sur les feux avant est monstrueux ! Ca c'est du modding ! Merci à
XSB
, et à "EA games" pour le model de base ;)
Voilà, ya pas grand chose à dire d'autre sinon quelle remplace la SuperGT et qu'il faut ABSOLUMENT l'essayer ;)
-----------------------------------------------------------------------------------------------------------------
Rolling drum... For the great, beautiful "
Audi R8
" :)
In concessions Audi since April 2007, the Audi R8 is (for me) the most beautiful GT2 coupe! Just this ;)
Finally a model that can compete with Porsche, Ferrari and Other Aston Martin.
It is produced in Germany and its construction is organized like a factory where experts check the quality of each piece.
With its V8 engine with direct injection of 4.2 L borrowed from the RS4, the Audi R8 goes from 0 to 100 km/h in under 5 seconds and from 0 to 200 km/h in 16.5s for speed peak over 300 Km/h !
Its design is breathtaking, and front LED lights shaped eyes Falcon gives him a look animal, Rrrrrr ...
With all this, it's easy to like as much and it was therefore logical to see her slip on the roads of GTA San Andreas ;)And in this case, I think
XSB
did a great job, it's splendid !
Even if I find that the interior lack of detail...but hey, it's a conversion. From ProStreet to be precise .
Everything is there, the front grille, the front and rear lights, the air intake side in carbon, the escape, wheels, engine ... it's a piece of silverware !
If you look closely, the work done on the front lamps is monstrous! That's the modding ! Thanks to
XSB
, for this model ;)
So, is not much else to say or what replaces SuperGT and must try it ;)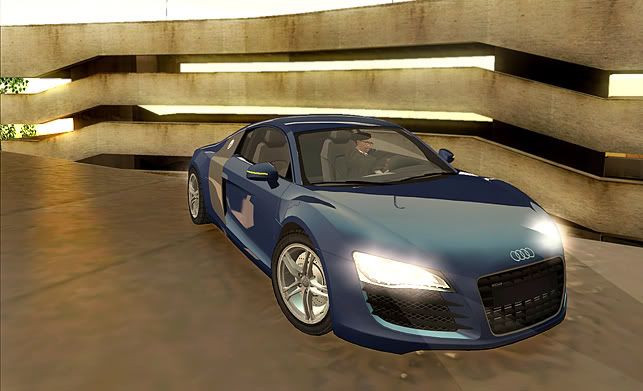 ...you've beautiful eyes...
DOWNLOAD on
carbongear
,
gtainside
and
gta-worldmods